Snowshoe Cattle Co is located along the Yellowstone River at Pompeys Pillar, MT. The river bottom provides excellent protection during the winter and through calving.  After they have been AI'd, the cowherd is moved to summer pasture in the Wolf Mountains on rugged pastures. They are expected to forage in tough country and wean off calves that can do the same.  Heavy pressure is placed upon correct feet and legs, udder structure and quality, volume and mothering ability.  The cows must have the phenotype to carry them into the rocky hills to reach the short hard grass and still make the long trek back to water. They must also be genetically pre-disposed to good health, as this country does not lend itself to coddling.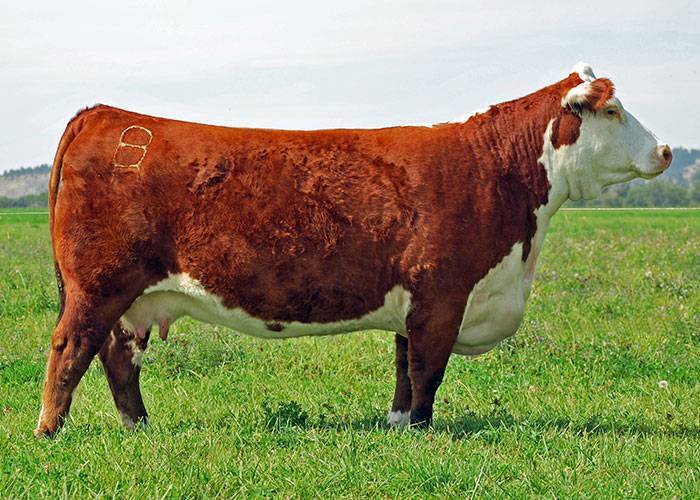 Snowshoe 719T Katie Y27
Dam of one of the top 5 bulls in the Breed for Carcass!
2015 WY Preview Show Champion Cow Calf Pair
2015 Montana Jr Beef Expo Champion Cow Calf Pair
2015 Montana Fair AOB Champion Cow Calf Pair
2015 Montana Fair Reserve Supreme Female
Snowshoe X51 Bannack Y27 19C   2015 Montana Fair Reserve Supreme Bull

Bull Selection Day Sale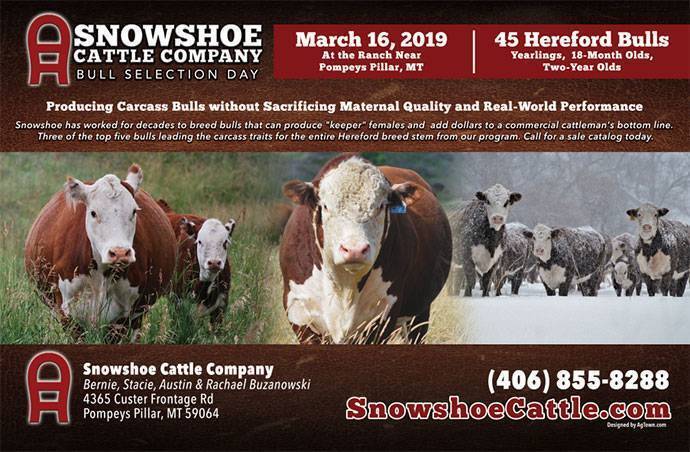 Videos and catalog coming soon!
Snowshoe Females for Sale
Offering these females from the heart of our replacements. These have been raised and bred to produce both outstanding bulls and noteworthy females. In other words, we have selected them because they will be profit generating.  These can be purchased as individuals, in groups or as a whole.  They can be an excellent contribution to a program or a great starter herd. 
Our cattle are expected to produce in all of the conditions that Montana has
to offer, and still turn out like the cow above.
Snowshoe 64R Pilar X01
Previously sold to Crum Cattle Co, IL

---
Bred Heifers
Videos:
[ Click on name for video ]
---
Heifer Calves
Videos:
[ Click on name for video ]
---

Snowshoe 719T Katie Y27


Son: Snowshoe X51 Bannack Y27 19C

Katie Y27 has been noteworthy from the moment she hit the ground.  She has exhibited added volume and length of hip in an easy fleshing, great uddered package.  She is sound footed with both precision and fluid movement in her step.  It is hard to say which strikes you first upon viewing her: her wide table top or her expansive middle.  Both features only add to her total feminine maternal package.  She has been earning honors both in the show ring and in the pasture.  As a calf she earned Champion Female at the Northern International Livestock Expo (NILE) and was awarded the opportunity to appear in the Supreme Beef Challenge at Agribition.  She and her dam were also named Champion Cow Calf multiple times including the NILE.  Her trips out as a bred heifer were equally rewarding.  Now, as a mature cow she has continued to "Wow" us with her ability to produce outstanding calves.  She demonstrated this best at the JNHE this summer earning Reserve Champion Standard Cow Calf with her X51 sired bull calf at side.  She passes along her shape and design to her calves in a powerful and eye appealing package.   She will have a tremendous impact on the future of our program. 
Owned with Gary Wall, Billings, MT

---

Snowshoe P606 Peony T10
REGISTRY NUMBER: P42826254
CALVED: Jan 29, 2007
Click here for pedigree and epds

T10 has been proving to be one of the most powerful females in our program. With a weaning ratio of 121.5 and a yearling ratio of 105.5, she is proving herself to be a very consistent producer. Her Tundra daughter was the high selling female in our 2010 Elite Internet Heifer Sale going to Klee Walker of TX. She with her 719T daughter at side has been awarded 2011 Champion Cow-Calf pair at Montana State Fair–Great Falls, Montana Fair–Billings, and Wyoming State Fair. She has maintained a 351 day calving interval on 4 calves.

---

Snowshoe P606 Serena T44 ET
REGISTRY NUMBER: P42838891
CALVED: Mar 12, 2007
Click here for pedigree and epds

T44 is out of another donor female in our program, DRF Selena S133 K6 (photo below). She offers lots of volume in a sound dynamic package. She passes these qualities to her offspring with predictable consistency. Her first calf, a Spud daughter, was named Supreme Champion Female at the 2010 Montana State Fair. She and her maternal sister have both been retained in our herd. The most recent calf produced by T44 was a key member of our 2013 Denver pen. Snowshoe 31U Rogue T44 36Z has displayed outstanding performance both in growth and carcass. He has a weaning ratio of 111, a yearling ratio of 110, our largest Rib Eye Area scan with 15.88 in, and an IMF ratio of 115.
Embryos available by TH 75J 243R Bailout 144U.

---

DRF Selena S133 K6
REGISTRY NUMBER: P42060659
CALVED: Mar. 25, 2000
Click here for pedigree and epds

Grand daughter, W11
Supreme Champion Female - Montana State Fair

Her sire, Headline S133 is a maternal legacy in the breed. K6 has proven that she can produce both outstanding sons & daughters, one of which, T44 is pictured above. She is broody and massive, yet feminine. She offers a solid sound foot that can cover the rugged summer pastures, and produce the kind of sons that will work in tough country. Her granddaughter by Spud is the 2010 Supreme Champion Female at the Montana State Fair.

---

BSB 28E Lolita L3
REGISTRY NUMBER: 42240424
CALVED: Feb. 25, 2001
Click here for pedigree and epds

The Dam of Spud, L3 demonstrates the characteristics for which we have been picky. The ability to forage in tough conditions, sound structure to get her there, level problem free udder in a high capacity, feminine package.

---

Snowshoe X51 Bannack Y27 19C


_________________________________________________

Snowshoe NL Palisade Y04 08E
REGISTRY NUMBER: P43831634
Click here for pedigree and epds

This exciting young sire topped our 2018 Bull Sale selling for $10,000 to Pete Marlanee.  A Next Level son, he brings outcross genetics to our program.  He is long spined, naturally thick, very correct and built for calving ease.  His dam has earned Dam of Distinction status with a WR and YR of 111.  We used him extensively on both the cow herd and on heifers and anticipate the arrival of his first calves Spring 2019.

---

JDH 21Z Victor 33Z 40E ET
REGISTRY NUMBER: P43783931
Click here for pedigree and epds




Dam: JDH Ms Durango 4037 21Z




We selected 40E and his full sister from the Delaney Hereford herd.  An impressive son of 33Z, he is a combination package for calving ease, cow making and growth. We are looking forward to the contribution he will make to our program. 

---

WLB Mr Canada 10Z 15B
REGISTRY NUMBER: 43780622
Click here for pedigree and epds




Dam: Remitall Graves Juno 204S




Mr Canada was of particular interest to us since we had the privilege of owning his grandsire, Lego.  We have Lego daughters in production that are broody, productive and have beautiful udders.  The sons have been high volume, thick and well received.  Mr Canada combines all of this with a bit more performance and a power dam – the Juno 204S cow.  Our first calves have impressed us with their performance and their style.  The heifers are growthy, broody and easy on the eyes.  The sons are impressive with their size, performance and phenotype.  We will offer the first sons in our 2019 Bull Selection Day and anticipate they will be well received.

---


Snowshoe 42Z Mystic
Y22 C76

Snowshoe 31U Tuff 31S 42Z
This young sire has drawn our attention every time we viewed him in the pasture with his dam. As our Lead-off bull in our Denver Pen, he carries extra thickness down his top and through his lower quarter. He offers genuine red meat, carrying only a 0.17 inch backfat with a 14.28 Rib Eye Area. He is correct and wide based, smooth shouldered and smooth polled. He has given us the performance we sought in a very tough year of drought and heat. His dam, 31S has earned Dam of Distinction honors for good reason. She has a weaning ratio of 114.6 on 5 calves and a yearling ratio of 108.5. At seven years of age she is in the prime of her production and her udder is the same: level, square made, well placed and ideal sized teats. She produced the dam of the Champion Carcass Steer/Class Winner for Lauren Prill at the 2012 JNHE. Her offspring have consistently been at the top of their calf crop. With all of this in mind, TUFF will be playing a very instrumental role in the future of our program. His first calves are very exciting!
His first calves have been exciting.

Click Below To View Tuff Ad
SIRE: KCL 59M Joomla 65K 31U
DAM OF SIRE: KCL 8006 Bonissa 65K

Snowshoe 42Z Clara Belle B43
Champion Female – 2015 Montana Junior Beef Expo   Daughter of Tuff
View Pedigree
View Video

Snowshoe 42Z Ruffneck Y20 22B
"Son of Tuff"

---

Snowshoe 719T Paterno 23Y
REGISTRY NUMBER: P43220308
CALVED: February 22, 2011
Click here for pedigree and epds


Snowshoe P606 Peony T10 ET –
Flush mate to the dam of 23Y

Paterno was a member of our 2012 Denver pen. He combines the low birth weight and calving ease of 719T with the maternal performance and power of his dam, Snowshoe P606 Pilar U09 ET. Pilar U09 boasts a weaning ratio of 108.5 and a yearling ratio of 113. Paterno offers a balanced package with an impressive EPD spread.

---

WLB Lego 83T 90X
REGISTRY NUMBER: 43224587
CALVED: February 12, 2010
Click here for pedigree and epds


Daughter: Snowshoe 90X SelenaU06 B05



Lego is now walking the pastures at Snowshoe Cattle Co. He is an exciting addition to our program. As a trait leader for low birth weight and calving ease, plus REA, Lego is complementing our program well. He is Homozygous Polled. We will be calving our first daughters by him this spring.

---

Snowshoe R117 Ribeye T41 6Z

Click here for pedigree and epds

This Rib Eye son is quickly becoming an integral part of our program. We used him on our heifers and calved out his first offspring this year. The calves came easy yet thrifty and are growing out nicely. We felt so strongly about him that we have used him more extensively this year. His dam is out of one of our foundation cow families and is very correct with plenty of volume and a faultless udder. 6Z was purchased in our 2013 Bull Selection Day by Bill Kuehn and now resides in Nebraska. Two 6Z sons topped our 2015 Bull Selection Day.  We are eagerly awaiting his first daughters in production Spring 2016.

| | |
| --- | --- |
| 24B - Son of 6Z | 46B - Son of 6Z |

---

Snowshoe 20N Spud 64R
REGISTRY NUMBER: 42692431
CALVED: Sep. 03, 2005
Click here for Spud 64R's Ad
Click here for pedigree and epds

$25/ straw $60/cert.
Exportable semen available.
Spud - our "Meat & Potatoes" bull demonstrates an incredible amount of mass in a moderate, calving ease package. His sons are the first pick among our bull buyers, displaying excellent carcass with a maternal combination. His sons averaged 14.9 for REA and 1.35 for their REA per CWT ratio. Spud will add thickness and volume, top and rib dimension. Spud's daughters are feminine with ample thickness and performing both in the pasture and in the ring. One daughter, W11 was named 2010 Supreme Champion Female at the Montana State Fair in Great Falls. Another daughter was named 2010 Reserve Supreme Champion Female at the MontanaFair in Billings. Deceased - Ranked in the top 1% of the breed for REA and in the top 10% for both BMI and CHB indexes. Now a trait leader for Fat with an EPD of -0.035 and for REA with an EPD of +0.97

---

Snowshoe 64R Trijicon 37W
REGISTRY NUMBER: 43032555
CALVED: Mar. 31, 2009
Click here for pedigree and epds
 A top Spud son, this young sire holds lots of promise.  We used him extensively in our herd this spring and are looking forward to his first calves in February.  His dam is an outstanding Governor daughter – square uddered, clean fronted and consistently weaning off our most powerful calves.
Trijicon has displayed an impressive 14.0 REA, with a 1.31 REA/cwt and an IMF ratio of 114.
We are excited to have Bill & Bobbi Dunn, Cochranton, PA as partners.

---

Remitall Boomer 46B

Semen available upon request
Click here for pedigree and epds

---
We would love to hear from you!
Feel free to use the form below or the contact information. If you would like to take a closer look at anything you saw on the site. Thank you for visiting our site. We hope you liked what you saw!

Snowshoe Cattle Company
Bernard, Stacie, Austin & Rachael Buzanowski
4365 Custer Frontage Rd
Pompeys Pillar, MT 59064
Phones:
Home (406) 875-2138
Cell (406) 855-8288
Email:
snowshoecattle@msn.com